Selected Exhibitors(Shenzhen Gurki Packaging Machine Co.,Ltd.W3-B4)
Shenzhen Guerqi Packaging Machinery Co., Ltd. is a national high-tech enterprise specializing in the research and development and manufacture of automatic packaging machinery. It has carefully designed and developed high-performance packaging equipment and fully automatic packaging production lines, and has chosen high - efficiency, automatic or economical packaging machinery for its customers at different levels. In the manufacturing and sales of equipment, high-quality products and good after-sales services are generally recognized and trusted by users, and products are all over the world. It has established long-term partnership with Alibaba, Jingdong, Shunfeng and so on.
The intelligent express packer is specially designed for e-commerce customers and provides integrated solutions such as scanning goods, weighing goods, packaging plastic bags, automatically sealing plastic bags, automatically printing face sheets, automatically pasting face sheets and automatically transporting goods. At the same time, according to the customer's needs, it can automatically connect the e-commerce order with the enterprise ERP or WMS system to provide the customer with the overall solution of plastic bag packaging and delivery of goods.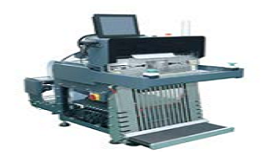 The Asia Logistics exhibition is in progress.