Selected Exhibitors(Dematic International Trading Ltd, Shanghai)
Dematk is a leading integrator integrating automation technology, software and services, and is committed to optimizing the supply chain. Dematk has more than 6,000 professional logistics personnel to serve its global customers, and engineering centers and factories are all over the world. As a brand owned by Kaiao Group, Dematk has provided more than 6,000 integrated systems for customers of large, medium and small companies in different market areas around the world. Dematk's modular high-density storage solution is an automated high-density tray access system. The system solution is pre - designed, easy to configure, quick to install and start, ensuring quick return on investment and easy to expand. It also has obvious advantages in improving storage capacity, reducing labor, shortening delivery time and improving inventory management. The scheme has also been professionally tested and verified, with high efficiency in design, easy installation and convenient debugging.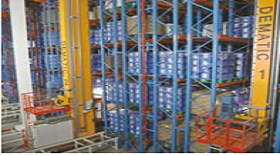 The Asia Logistics Trade Show is in progress.