Three major activity areas, different exhibition experience
As we all know, apart from the crowded exhibition halls W1 to W5 this year, CEMA Tasia 2018 has also set up three outdoor activity areas C1, C2 and C3 in the outdoor area from W1 to W2, respectively undertaking the three major tasks of CEMA Tasia 2018 Innovation Salon, China Industrial Vehicle Innovation Award ( CITIA ) product display and on-site forum activities. The trinity outdoor exhibition area will not only bring you rich activities, but also form a hot exhibition experience area, and there are some " secrets" to tell you about this " cemat town"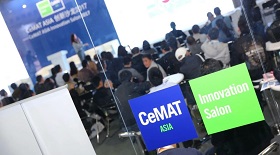 In the C1 outdoor exhibition area, which is next to the CEMA Tasia 2018 Innovation Salon, we have carefully set up an audience rest area for you. In addition to resting your feet, the top 100 viewers who release the CEMA Tasia 2018 pageantry every day and are verified by the organizers will receive a copy of coffee and refreshments jointly customized by CEMA Tasia and Starbucks. On November 6, we invite you to make a bully circle of friends in the coolest way!
Besides coffee and tea, the organizers also want to add some sweetness to you. In the same place, in the C1 outdoor exhibition area, we will also present a candy lab custom-made by the predestined audience CEMA TASIA. If you are lucky enough, or our top fans of CEMA TASIA, there will be a chance to win CEMA TASIA's out-of-print logo lollipop! Even the air should be sweet for a perfect exhibition experience.
Asia Logistics Trade Show is coming soon.Please pay attention to it.