Review of 2017 Asian Logistics Show Products: VR / AR View Show Becomes the Trend
It is not only the exhibits that carry the " wisdom" label, but also the way of participating in the exhibition is becoming more and more scientific and technological. At this exhibition, many enterprises provided VR experience and even experienced AR warehouse selection on the spot.
Dematk VR Experience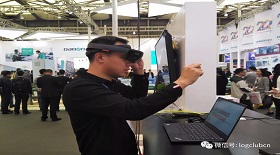 HUAZH AR warehouse experience
Asia Logistics Trade Show is coming soon. Please pay attention to it.