Suning: No Express Car and No Heavy Truck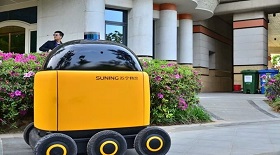 Under the condition of no control, the " Wolong No. 1" express car can avoid pedestrians and vehicles, take elevators, call doors and other actions, and intelligently complete express delivery.
" Wolong No. 1" is an unmanned express car independently developed by Suning. It is equipped with a positioning system integrating multiple sensors such as laser radar, GPS, inertial navigation, etc. It scans the panoramic three-dimensional map of the community through laser radar, so that it can be seen clearly from buildings to trees, flowers and plants, and the external environment such as sunny and rainy weather, day and night will not affect its work.
At the same time, combined with GPS navigation, the express car can use the artificial intelligence chip it carries to calculate and analyze the location of the destination, plan the route, and deliver the express to the consumers accurately. At present, Wolong No. 1 has already conducted a pilot project, and the team is still developing its version of " walking on four feet", which will be able to climb the stairs in the future and provide intelligent services to some communities without elevators.
In addition to the unmanned car, Suning also used the big guy named unmanned heavy truck. The unmanned heavy truck mainly solves the problems of trunk transportation between Suning logistics parks and automatic driving within the parks, and can realize the L4 level unmanned transportation between logistics parks.
According to reports, the unmanned heavy truck uses depth sensor fusion technology, leading in perception, cognition, decision-making and control: 300 meters of accurate identification, 25 meters per second of response speed, and can realize safe automatic driving within 80 kilometers per hour. In the expressway section ( test road ), the unmanned heavy truck can realize many functions such as automatic emergency braking, adaptive cruising, traffic jam assistance, lane departure warning, lane keeping assistance, high-speed car following, pedestrian detection, autonomous obstacle avoidance, etc.
Asia Logistics Trade Show is coming soon. Please pay attention to it.