Mujin's Robot Control System
Mujin is a Japanese enterprise focused on providing universal integrated solutions for industrial robots, founded in 2011. In 2014, Mujin won the bid from the University of Tokyo Edge Capita, and JAF Co followed the $ 6 million B round of financing, of which JAF Co did not announce the investment for unknown reasons. Mujin's business mainly involves three-dimensional object recognition and grabbing, robot kinematics calculation, motion planning, and three-dimensional simulation in the industrial field.
On logis - tech tokyo 2018, mujin exhibited a series of solutions in the field of logistics, from devanning to depalletizing, piece picking, palletizing and sorting to create a series of logistics applications for customers. It can be said that it covers almost all the applications used in the automatic logistics warehouse.
Compared with other booths or companies in the venue, Mujin's mechanical arm solution is more outstanding in terms of technical parameters and various indexes. Its sorting ability can identify and grab more than 40 kinds of goods with different sizes and appearances in the same container, and when the grabbing fails, it can achieve the task of visual identification and retrieval of the system. The system can sense and recognize obstacles and stop grabbing operations immediately when there is interference from outside objects or when it enters the robot's work area, thus achieving the goal of safety protection. During the process of placing the grabbed objects on the conveyor belt, the MUJIN system can sense the gaps of the conveyor belt and accurately place the objects on the idle conveyor belt. For a sorting task, mujin system can reach about 4 seconds, which is the fastest level in the industry so far.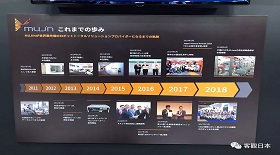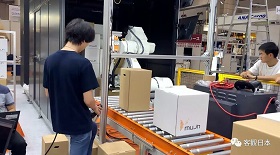 Friendship Tip: The Asia Logistics Exhibition will be held from November 6 to 9, looking forward to your attention.