Cross beam pallet rack
Jracking beam pallet rack is a safe and efficient pallet goods storage facility, which is widely used in factory warehouses and workshops, specialized logistics distribution center warehouses and various types of pallets, bins, and forklifts to ensure accurate and safe storage and transfer of goods.
There are two kinds of surface treatment processes of powder spraying and galvanizing on the surface of the shelf, which can play the role of anti-corrosion and decoration for steel members.
JRacing's columns are made of steel with good plasticity and toughness, high strength and excellent welding performance. The steel grades adopted are Q235B and C345B, which ensure that the shelves stand firm when they bear the full load of goods and are hit by forklift trucks.
JRacing's occluded beam is made of two " C" shaped sections, which are tightened toward the center of the beam at the edge of the joined material, making the beam a very solid whole and improving the bearing capacity of the beam. The safety pin adopts a locking elastic safety pin, so long as the cross beam hangs up the upright post, it will automatically fall into the hole to prevent the cross beam from accidentally falling off.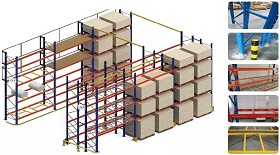 Examples of Tray Shelf Items
The Asia Logistics Exhibition will be held from November 6 to 9, and we look forward to your presence.