Cantilever shelf
Cantilever shelves produced by Jiangrui, together with professional side loading forklifts, can solve the storage of long and irregular materials. The highest column can reach 10m, the overall length of the cantilever is 1.0 - 1.2m, and the bearing capacity is 1t. Cantilever racks can be used indoors and outdoors at the same time. Cantilever racks used outdoors can be hot-dip galvanized on the surface of the racks, or awning racks can be installed at the top of the columns to withstand wind, rain and sunlight.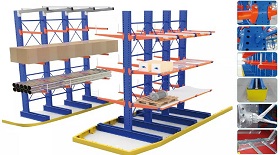 Examples of Cantilever Shelf Items
The Asia Logistics Exhibition will be held from November 6 to 9, and we look forward to your presence.