The 2017 Asian Logistics Exhibition - Hotong Yongyuan
The 2017 Asia International Logistics Technology and Transportation System Exhibition was ceremoniously opened on October 31 at the Shanghai New International Expo Center. Shanghai Hetong Yongyuan Parking Equipment Co., Ltd. is making a stunning debut with the cool boy " Robot Intelligent Handling Robot".
In recent years, improving the intelligent level of manufacturing industry has become a common topic all over the world. For a long time, " Made in China 2025" has been highly valued by the CPC Central Committee and the State Council, and the development of manufacturing and logistics industry has also been the focus of the 13th Five - Year Plan. The 2017 Asian Logistics Show closely followed the national policy direction and showed the three policy directions of " cost reduction and efficiency increase", " intelligent logistics equipment" and " intelligent manufacturing" to speed up the transfer of industry hot spots and help logistics enterprises to explore new directions for logistics development.
The Asia International Logistics Technology and Transportation System Exhibition - The Logistics Robot Exhibition Area is on fire as never before: One hundred battles for the current, one striving for the future! Pay attention to research and development, and constantly innovate Hetong Yongyuan must be in it.
Hetong Yongyuan's unique booth shape, bold color application, shocking video promotion and unique robot intelligent handling robot without friends instantly attracted countless eyes.
Robot sneaked into the underbody and positioned it accurately, stretching out two pairs of " scissors hands" and gently lifting the 2.6 - ton Land Rover, which can be described as small and powerful. Such a " baby" makes the visitors in front of the stage enthusiastic and marvellous. More customers from home and abroad have expressed strong interest in the company and its products ...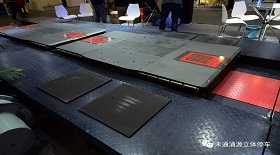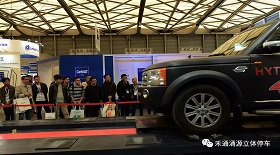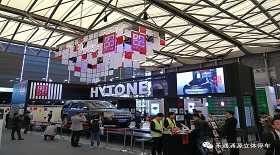 Friendship Tip: The Asia Logistics Exhibition will be held from November 6 to 9, looking forward to your attention.