Xianzhi Exhibit Preview - SRC - based Auto Forklift Solution
The SRC - based automatic forklift solution uses SLAM algorithm to complete the positioning and navigation functions during map construction and robot travel. In the case of unmanned operation, the functions of intelligent multi-machine scheduling, accurate goods picking and pallet self-identification make industrial logistics handling more intelligent, efficient and accurate.
The SRC Series Core Controller Developed by Xianzhi
Such an intelligent unmanned forklift truck is based on the SRC - 2000 - F core controller independently developed by Xianzhi, which is loaded with " mobile robot super brain" inside the forklift truck. Based on 3D SLAM, it combines multiple sensors to realize precise positioning and multi-scene semantic understanding of complex logistics transportation environment.
During the exhibition, Xianzhi will launch the " Cemet Asia 2018 Xianzhi Robot Live Release" event, which will conduct in-depth discussions on the theme of " Smart Logistics" through technical experts' explanation and interactive discussions, display Xianzhi's cutting-edge logistics and transportation scientific and technological achievements, and strive to create a focus event in the logistics industry.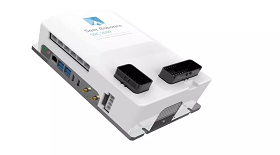 Friendship Tip: The Asia Logistics Exhibition will be held from November 6 to 9, looking forward to your attention.