Xianzhi Robot, Meet with You at Asian Logistics Exhibition 2018
From November 6 to 9, 2018, the " Asian Logistics First Exhibition" 2018 Asian International Logistics Technology and Transportation System Exhibition ( Cemet Asia ) will be held in Shanghai's New International Exhibition Center.
As an expert on mobile robots in intelligent factories, xianzhi robot will take the theme of " hand in hand with industrial partners to drive wisdom to build the future" as its exhibition theme and make a brand-new appearance at the Asia - Pacific annual logistics event.
Exhibition hall style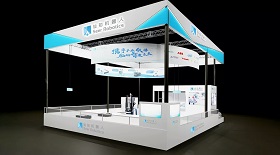 Xianzhi Robot focuses on the research and manufacture of mobile robots, focuses on independent research and innovation of key core technologies, looks ahead to logistics transportation problems in production and manufacturing in the fields of automobile manufacturing, home appliance manufacturing, 3C electronics manufacturing, semiconductor manufacturing, e-commerce warehousing, security inspection, scientific research and education, and takes the development of high-quality logistics equipment as a breakthrough to help customers improve the technical level of mobile transportation, and finally helps customers improve enterprise efficiency.
One of the most important links in industrial production is logistics transportation. Production and manufacturing in different fields also put forward new demands on logistics transportation: unmanned production with shortened production cycle requires logistics transportation to have rapid response capability; The frequency of logistics transportation has increased, requiring higher efficiency. It can interface with MES system to accurately complete the efficient transfer of production materials.
The Asia Logistics Exhibition will be held from November 6 to 9, and we look forward to your presence.