In recent years, thanks to the rapid growth of China's economy,
In recent years, thanks to the rapid growth of China's economy, especially the Internet economy, the logistics industry has developed at a high speed. According to the data released by the China Federation of Logistics and Procurement, the logistics market grew steadily in the first half of 2018, with total revenue of 4.6 trillion yuan, up 9.5 % year on year, up 1.3 percentage points from the first quarter.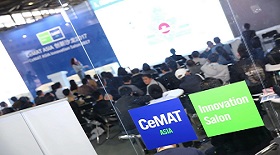 Among them, Yangtze River Delta and Pearl River Delta, as the two most developed regions in China's logistics market, both need a logistics exhibition platform with global brand effect and strong strength to open up exchanges and cooperation between the two logistics industries and mutually beneficial enterprises and buyers. In the coming autumn, Cemet Asia held in Shanghai and Let - A Cemet Asia Event held in Guangzhou in the spring will provide an all-round platform for Chinese customers, especially overseas enterprises, to expand their domestic market and create a new trend of uninterrupted logistics industry throughout the year. The newly created let - ace mat Asia event will take logistics innovation as its entry point, showing not only the intelligent landing cases around logistics equipment and technology, but also the trend of cutting-edge technology and high-tech artificial intelligence in the industry. Let - a Cemet Asia Event, which gathers new strength, will be held in Zone B of the China Import and Export Fair Exhibition Hall in Guangzhou from May 29 to 31, 2019, with an estimated exhibition area of 30,000 square meters. The display panel will include: logistics system integration, logistics transportation and sorting equipment and accessories, forklifts and accessories, logistics robots, shelves, AGV and accessories, packaging equipment and materials, pallets, supply chain management and software, etc. A series of intelligent achievement cases will help enterprises in food, medicine, 3C, automobiles, shoes and clothing, daily chemicals, household appliances, toys, paper making, furniture, lighting, building materials, e - commerce, retail, logistics and other industries to upgrade their technology, reduce costs and increase efficiency in factory production, in-plant logistics, warehousing logistics and supply chain logistics. During the same period, the opening ceremony, gold ant awards and industry summit forum, new product trend release and enterprise docking will be held.