World Logistics Day
The " World Logistics Day" has always been an important logistics public welfare activity around the world. It also attracted many logistics professionals from various application fields to participate in the event, and the atmosphere on the spot was lively. Apart from being able to appreciate the cutting-edge development level of the world logistics industry from the speeches and shares of various experts, it can also meet more like-minded professionals and lay the seeds for future cooperation and friendship.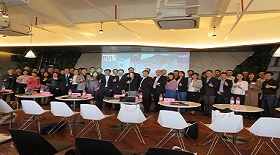 As one of the co-organizers of the event, Cemet Asia participated in the World Logistics Day for the first time. While many people in the logistics industry paid close attention to it, many enthusiastic partners concerned about the future development of Cemet Asia left sincere wishes and good expectations for the future. We will always keep these precious handwriting.
World Logistics Day is a new starting point for Cemet Asia. We will sail to a new goal with new ideas, new partners and the blessing of our partners.
The Asia International Logistics Technology and Transportation System Exhibition will be held from November 6 to 9, 2018 at the Shanghai New International Expo Center.