Shanghai port's July throughput sets record-[the world's largest container port;diversified transportation solutions ;business models]
2022.08.03 SOURCE:CHINA DAILY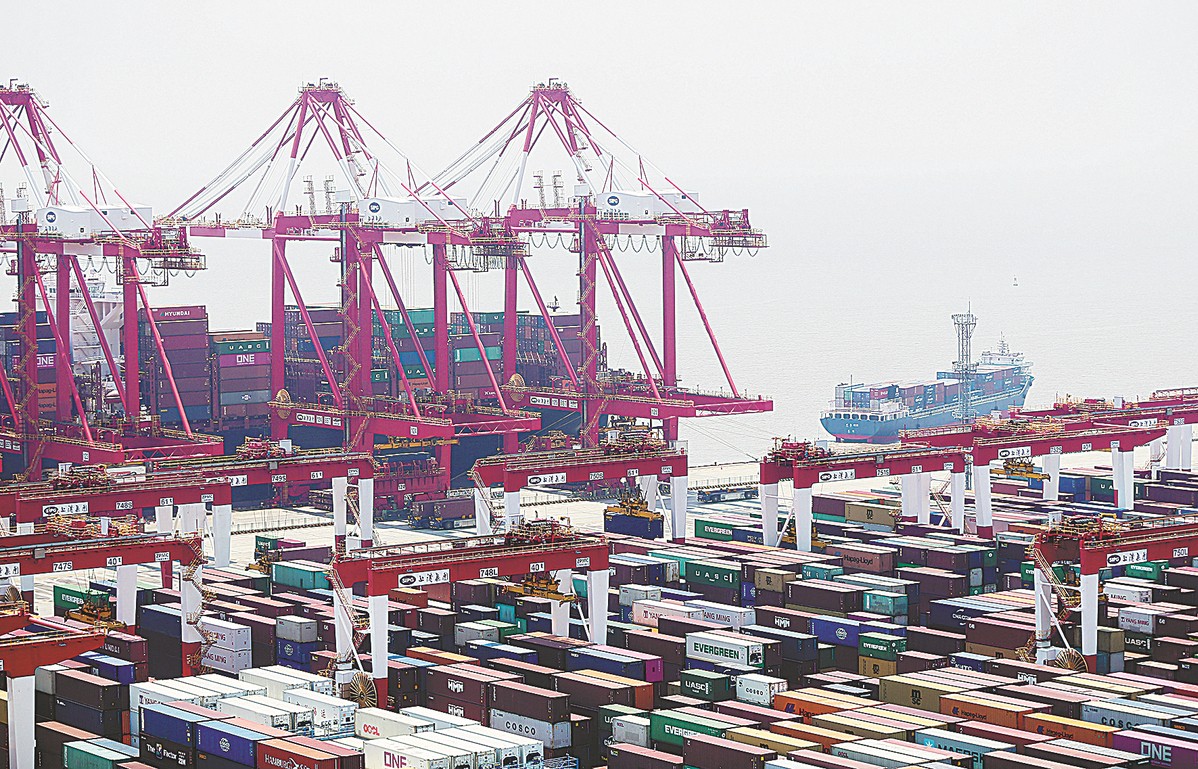 The Yangshan Deep Water Port in Shanghai. [Photo/Xinhua]
The port of Shanghai, the world's busiest container port, may have set a container throughput record for July, its operator Shanghai International Port Group said on Monday on its official WeChat account.
Last month, the port handled more than 4.3 million TEUs (twenty-foot equivalent units), up 16 percent year-on-year and up 13 percent month-on-month, thanks to its efforts to diversify its business and the strengthened integration between ports across the Yangtze River Delta region, said shipping industry experts.
On average, the port handled 140,000 TEUs per day, said SIPG, adding that the port realized positive growth in the first seven months of this year.
Last year, the port handled more than 47 million TEUs, or about 3.92 million TEUs per month.
Specifically, its subsidiary Shanghai Shengdong International Container Terminal recorded a single-month high of 840,000 TEUs, SIPG said.
Shengdong is responsible for part of the Yangshan Deep Water Port, which is one of the Shanghai port's main units. Its robust growth is mainly supported by exports and imports, said Zhou Dequan, director of the Shanghai International Shipping Institute's domestic shipping research office.
Shanghai port has been rated as the world's largest container port for 12 consecutive years since 2010.
Consistent advancement in new technology, diversified transportation solutions and business models, and collaboration between regional ports are credited for SIPG's steady business performance.
"The digital transformation launched by the group has given us a technological edge in SIPG's development, supporting our pursuit of building a world-class hub and an intelligent, green, safe and resilient port," said Zhou Yong, assistant to the general manager of production division with SIPG.
SIPG consistently diversifies its operations by integrating logistics resources, including waterways and railway networks, which allow transportation across the region with higher efficiency and lower energy consumption, Zhou Yong said.
According to Lin Guolong, director of the Logistics Research Center at Shanghai Maritime University, when work began to build Shanghai into a global shipping center, the government had started to make plans for a highly developed water network across the Yangtze River Delta region.
The water route plays an important role in supporting the supply chains, especially due to its economic and environmentally friendly characteristics, Lin said.
Zhou Yong said SIPG has been keen in exploring new business models to consolidate its position as a global container hub as well as an international shipping center.
"SIPG attached great importance to the integration and collaboration with ports across the Yangtze River Delta region, and the group has been actively implementing the strategy of integrated development of the region."
Zhou Dequan of the Shanghai International Shipping Institute said, "July is also a conventional peak season for global container shipping, as many international retailers prepare for the sales season of the latter half of the year."
The institute's second-quarter report suggested shipping entrepreneurs are confident of the market prospects and are hence expanding their capacity. Freight revenue is growing, businesses are turning profitable, and industrial companies' risk-control capability has improved, the report stated.