COVID-19 brings logistics rethink in Hong Kong【Cross-border freight links disrupted, Drivers quit, Busy flight, New solution】
2022.05.27 SOURCE:CHINA DAILY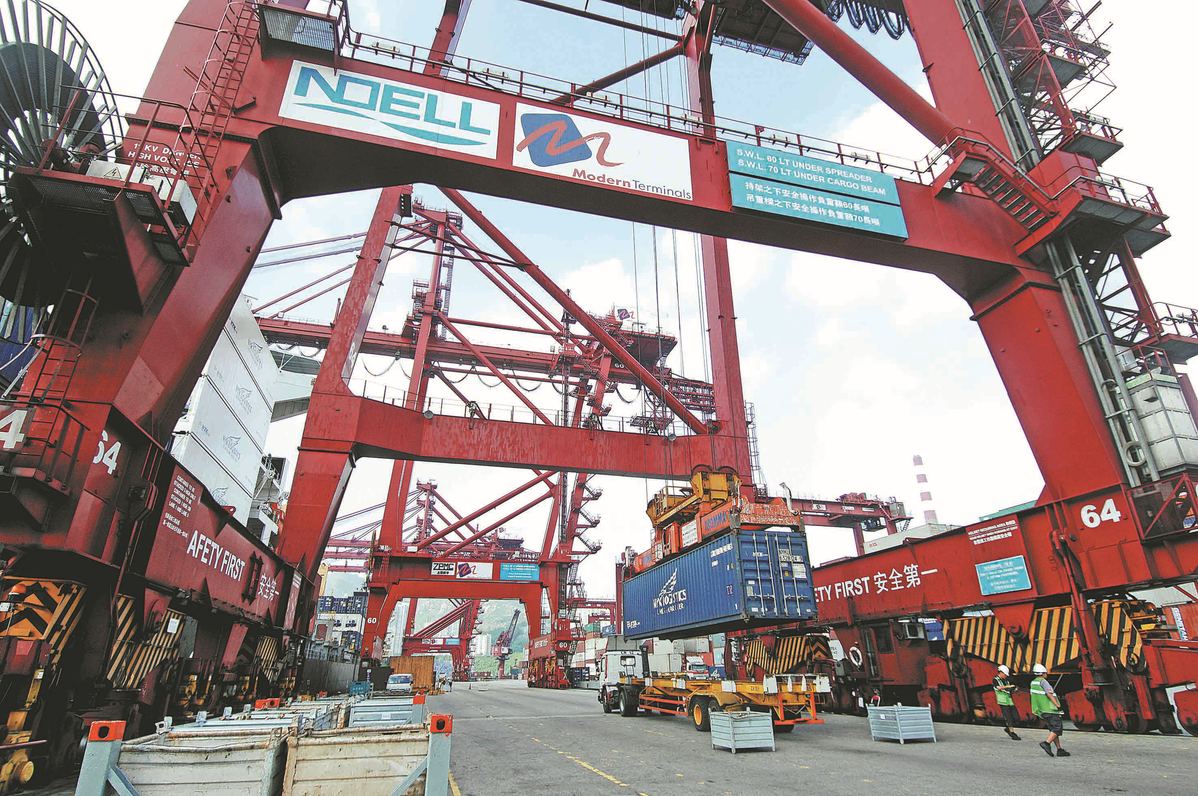 Cargo is unloaded at Kwai Tsing Container Terminals in Hong Kong. Shippers and freight forwarders in the Guangdong-Hong Kong-Macao Greater Bay Area are concerned about COVID-19 disruptions to cross-border land transportation and the possible impact on supply chains. Photo provided to CHINA DAILY
Upgraded services eyed as cross-border freight links disrupted
Around 7 pm one evening in early March, David Cheng, 64, left a two-story dormitory built from stacked shipping containers in Lok Ma Chau, Hong Kong.
He drove an empty truck across the border to Shenzhen, Guangdong province, before returning to Hong Kong at around 4 am, with the vehicle fully loaded with daily necessities and medical supplies that were in short supply.
The COVID-19 pandemic has forced many people to change their lifestyles by switching to operating from home, extending their working hours and conducting business through video conferencing.
To avoid traffic congestion caused by COVID control procedures, Cheng, an experienced cross-border truck driver, had to switch to working in the small hours, from later in the morning.
The round trip from Lok Ma Chau to Shenzhen used to take three to four hours, but in early March, the journey time extended to around nine hours, and to 12 hours in the middle of that month.
The longer journeys came after the Shenzhen authorities required truck drivers from Hong Kong to remain in designated areas while mainland counterparts took over disinfected trucks to pick up goods, in order to avoid cross-infection.
Drivers such as Cheng also had to take at least three COVID tests-two rapid antigen tests and combined nasal and throat swabs-keeping them waiting at the border for one to two hours until they received the results.
The prolonged working procedures resulted in long lines of trucks forming at border crossing points in the day, so Cheng's company decided to operate at night.
Cheng was one of the few drivers still available for work in early March, as about 20 recruits hired by the company he works for tested positive for the Omicron variant of COVID-19. The positive tests were recorded just after Hong Kong faced its most severe wave of the pandemic to date ahead of Lunar New Year.
By March 23, positive tests had been returned by more than 500 cross-border truck drivers tested by the Shenzhen authorities since Feb 4.
In early March, Hong Kong recorded its highest single-day total of COVID-19 infections-more than 70,000. Panic quickly gripped the city, with the shelves of stores emptying.