Tension in Ukraine harms airline industry 【Airspace restricitons, Cross-border business, Airline industry, Europe and Asia】
2022.03.04 SOURCE:Xinhua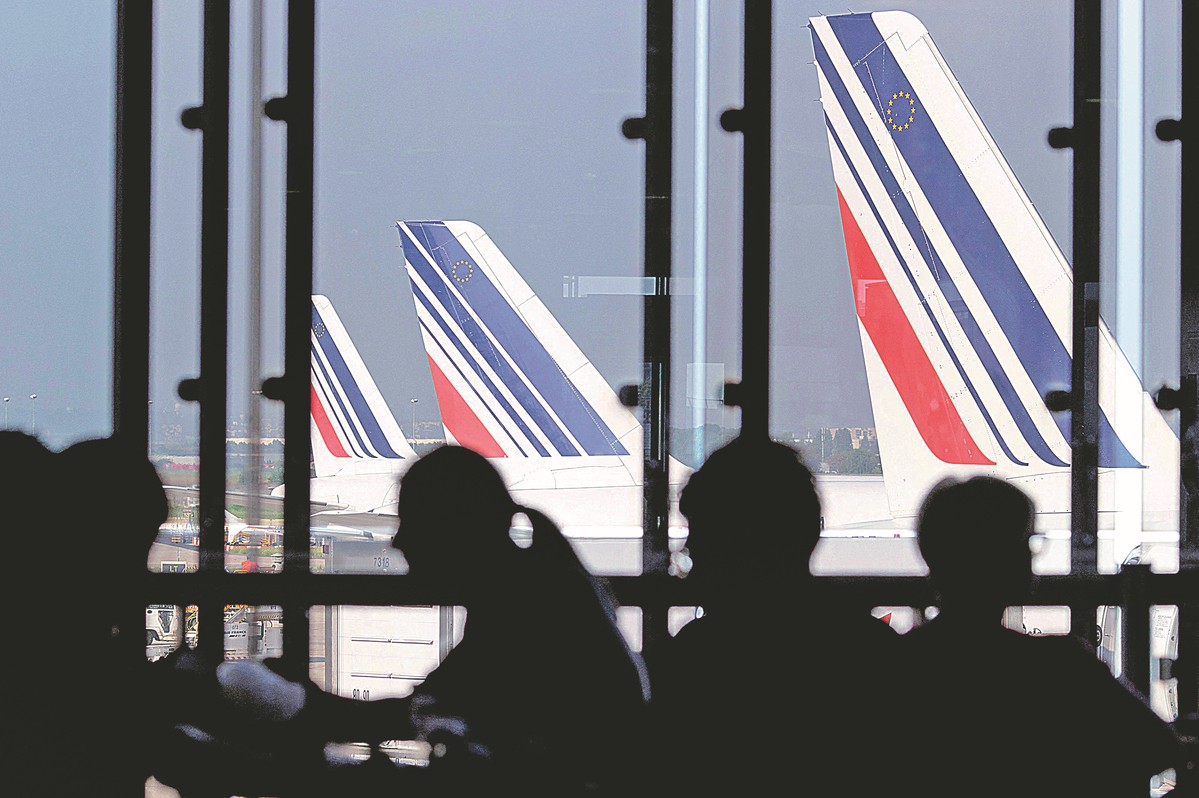 Passengers wait in a lounge as Air France planes are seen at Paris-Orly airport. [Photo/Agencies]
Some Europe-Asia flights have to bypass airspaces, which raises costs
Increasing fuel costs and airspace closures due to the Ukraine conflict are expected to deal another blow to the global airline industry, which has yet to recover from huge losses resulting from the COVID-19 pandemic, analysts said.
A number of airlines that operate between Europe and Asia have had to reroute flights to bypass the airspaces of Ukraine and Russia, leading to increased flying times and higher fuel costs.
"The airspace of Russia serves as part of the shortest North Pole flight route between Asia and Europe," said Zou Jianjun, a professor at the Civil Aviation Management Institute of China. "The closure of the airspace is expected to cause longer flying time and increase flying costs of airlines, and is likely to result in higher flight ticket prices."
On Monday, it took 11 hours and 11 minutes for a plane operated by German carrier Condor Flugdienst to fly from Frankfurt to Jinan, Shandong province. The flight was two hours longer than usual as the aircraft had to bypass Russian and Ukrainian airspace, according to VariFlight, a China-based civil aviation data service provider.
Air France suspended services to Russia and flights over Russian airspace on Sunday and has changed its flight plans for China, South Korea and Japan. On Monday, Air France flights from Paris to Beijing and Shanghai traveled via Seoul.
Finland's largest airline, Finnair, said it is evaluating alternative routes for some flights to Japan, South Korea and China. It has canceled flights to those destinations until Sunday, and canceled all flights to Russia until May 28.
Before the airspace restrictions, about 600 daily flights that departed from or arrived in Europe flew over Russian airspace. Many carriers have rerouted their aircraft. For example, the number of flights over Kazakhstan airspace on Monday was double the usual figure, according to travel data provider Cirium.
Last year, amid the pandemic, the global aviation industry suffered a loss of $51.8 billion, according to the International Air Transport Association.
"Chinese airlines are relatively less affected by airspace closures at the moment compared with their European counterparts," said Qi Qi, an aviation industry analyst and writer for Carnoc, a major civil aviation website in China.
"Currently, flights operated by Chinese carriers can fly to Europe over Russian airspace. Besides, the frequency and density of flights between China and Europe are not that high due to the pandemic, and no serious impact is expected for the moment," Qi said.
Meanwhile, the closure of airspace and cancellation of flights have also had an impact on cargo transportation, adding more pressure on the global supply chain.
On Wednesday, xLobo Express, the cross-border logistics arm of Shanghai-based e-commerce platform Ymatou, said that the geopolitical tension is expected to cause an air transportation price increase. The cross-border e-commerce sector is sensitive to fluctuations in exchange rates and the losses caused by wars can be huge, it said in a reply to China Daily.
For Chinese e-commerce retailers involved in cross-border businesses, the situation is expected to cause temporary suspension of logistics or lengthen the time of shipping, which will lead to an increase in product returns by customers, xLobo Express said.