New CRRC engine to speed up cargo services-【AGV, Logistic, Air Cargo, Supply Chain, Warehouse, ERP system, Logistic Management, Chinese Market 】
By ZHONG NAN | China Daily | Updated: 2020-08-14 09:18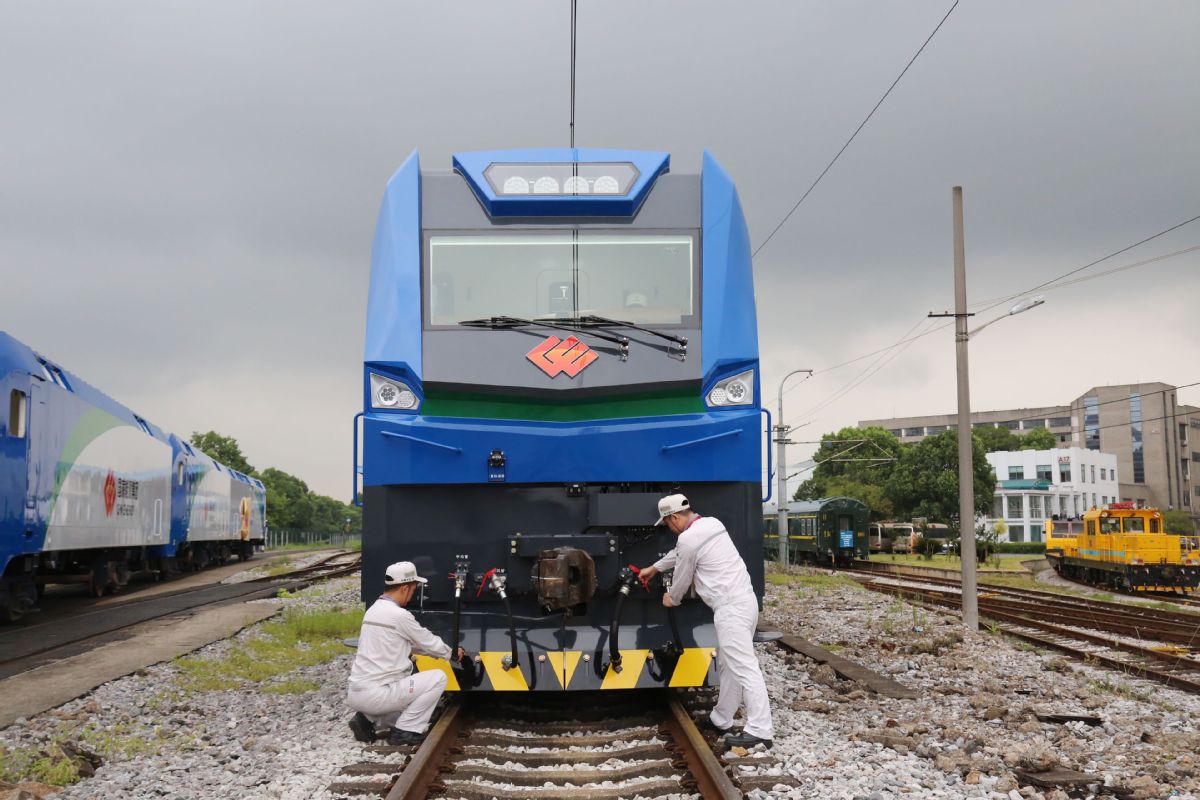 CRRC Zhuzhou Locomotive employees inspect the Shen-24, the company's newly rolled-out electric locomotive, in Zhuzhou, Hunan province, in July, 2020. [Photo/XINHUA]

Attracted by surging demand for more powerful freight trains to bolster regional connectivity and stimulate trade, CRRC Zhuzhou Locomotive Co Ltd rolled the world's most powerful electric locomotive, Shen-24, off the production line late last month in Hunan province.


With 28,800 kilowatts of power, the locomotive is able to generate forward propulsion of 2,280 kilonewtons, the most powerful of its kind in the world.


CRRC Zhuzhou, a subsidiary of China Railway Rolling Stock Corp-the country's largest rolling stock manufacturer by production volume-said this is a breakthrough in China's heavy haul railway sector and a milestone in the country's self-innovation in equipment manufacturing.


Jointly developed by CRRC Zhuzhou and China Energy Investment Corp, the locomotive is capable of moving up to 120 kilometers per hour and can pull 10,000-metric-tons of rolling stock up a 1.2 degree slope.


In addition to its impressive power, the locomotive is smarter, safer and more environmentally-friendly than previous versions.


Zhou Qinghe, chairman of CRRC Zhuzhou, said that as the locomotive is installed with smart-driving technology, it can start, adjust speed and stop by itself, which avoids human error in manual operation and eases driver fatigue. The smart operation and maintenance platform is also capable of recognizing key system faults and monitoring operations.


To ensure operational safety, Suo Jianguo, CRRC Zhuzhou's chief engineer, said the locomotive is installed with an innovative traction converter that provides a reliable and steady grip on the rails.


The braking system is of state of the art and underpins safety during operation. Accurate control of the locomotive is also ensured thanks to the differential positioning of China's Beidou Navigation Satellite System.


Water-based paints are used, reducing emissions of volatile organic compounds by 40 percent, he said.


Because lucid waters and lush mountains are invaluable assets, Suo said the locomotive promotes China's battle against all kinds of pollution.


Once the locomotive enters operations, CRRC Zhuzhou said it will be deployed on China Energy's Shenmu-Shuozhou railway to improve energy transport efficiency.


Even though COVID-19 has been a destructive force in the global economy, especially for services sector operators, airlines and shipping firms, it has brought opportunities for rail freight enterprises, such as the China-Europe freight train, said Li Muyuan, secretary-general of the Beijing-based China Container Industry Association.


The number of China-Europe freight trains operated in the first half surged to 5,122, up 36 percent year-on-year, breaking the monthly record several times over, according to China State Railway Group Co Ltd, the nation's railroad operator.


With many countries, especially European economies, introducing green emissions standards for cargo transport, market demand for green and high-efficiency trains will keep growing during the post-pandemic era, said Luo Renjian, a researcher at the National Development and Reform Commission's Institute of Transportation Research.


"Whether it's a domestic base or an overseas base, we are working nonstop to make sure orders can be delivered normally", said Huang Hai, head of CRRC Zhuzhou's ASEAN Manufacturing Center in Malaysia, adding that the company has prepared sufficient epidemic prevention materials to ensure employee safety.


Huang said the company's new generation electric multiple-unit (EMU) trains, currently in the mass delivery phase, are manufactured in Batu Gajah, Perak, Malaysia.


CRRC Zhuzhou currently runs three subsidiaries in Malaysia. It has cultivated nearly 1,000 local railway workers in Malaysia and established long-term cooperative relations with more than 600 local suppliers, effectively promoting economic and social development.
The State-owned enterprise to date has exported its products, including locomotives, mass-transit vehicles, EMUs, diesel multipleunit (DMU) trains and electric locomotives, to more than 22 markets including Singapore, Turkey, India, South Africa, Serbia, Germany, Austria, Brazil and Mexico.