Selected Exhibitors(Runningsys Technologies Inc)
Shanghai yunsi automation technology co., ltd was established in 2004 as a leading provider of logistics automation solutions. The vertical rotating container takes the hopper as a storage unit and drives the hopper to rotate circularly through chain transmission. When the container is in operation, the system adopts an optimal algorithm to automatically select the shortest path so that the material can quickly reach the operator. It is very suitable to be placed near the production area and used to store spare parts, production tools and numerical control tools for products. The vertical lifting containers on display take the pallet as the storage unit and take out or deliver the pallet for storing goods to the appropriate storage location in the cabinet through the lifting and horizontal movement of the pallet truck.
In the lifting movement, an absolute authentication mode is adopted, with high accuracy and accurate authentication. The horizontal movement is controlled by an induction switch to achieve the purpose of storing goods. An automatic height measuring device is arranged at the entrance to detect the height of the stored goods and automatically and reasonably arrange the storage space in the cabinet. Realize intelligent management and truly realize " things to people". Vertical lifting containers have manual, stand-alone automatic, online automatic and other modes of operation. The management monitoring system can be connected with ERP, MES, etc. Compared with vertical rotating containers, vertical lifting containers are more suitable for storing articles with large size differences and irregular shapes.
As an important part of modern logistics, the automatic warehouse system is an elevated warehouse system for storing goods in multiple storeys, mainly consisting of high-rise shelves, roadways, roadway stackers, warehousing and transportation equipment, and automatic control and management systems. Stacker and inbound / outbound equipment can automatically complete the export of goods out of warehousing operation under computer management, and be networked with enterprise management system to realize management modernization.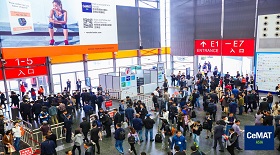 The Asia Logistics exhibition is in progress.