AI Helps Logistics Enterprises Realize
Logistics enterprise is an important chain connecting entity with virtual economy, manufacturers and consumers. Now it is changing from labor-intensive to technology - intensive, and intelligence will gradually penetrate into all aspects of logistics and become a new key word.
" The technological innovation represented by cloud computing, big data and artificial intelligence has become the new development momentum of the logistics industry," Zhou Ruilong introduced the solution of the logistics industry of Jinshan Cloud in his speech, making full use of all the advantages of Jinshan Cloud, aiming to help logistics enterprises build an intelligent logistics system.
Logistics enterprises can set up a mixed cloud environment through dedicated products of Jinshan Cloud, take advantage of the flexible and scalable nature of public cloud resources, and smoothly ride through business peaks. Meanwhile, through products such as Jinshan Cloud's big data, AI, IOT, etc., they can optimize aspects such as warehousing goods management, order system synchronization, transportation route planning, etc.
Zhou Ruilong explained the application of Jinshanyun's products to customers with practical cases: A logistics enterprise APP can quickly and intelligently recognize the handwriting of express delivery orders, receipt orders and packing boxes, including handwritten handwriting, with a recognition rate of more than 90 %, thus completing the digital processing of orders and waybills and greatly improving the efficiency of dispatching orders. Another enterprise adopted the IOT platform solution of Jinshan Yunhe and Xiaomi, and with the help of third-party intelligent hardware equipment, Jinshan Yunhe met various needs of customers such as accurate positioning of goods, electronic lock anti-theft alarm, real-time monitoring of temperature and humidity of goods, etc.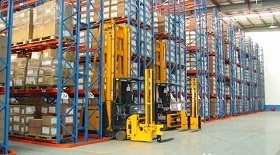 The Asia Logistics Exhibition will be held from November 6 to 9, and we look forward to your presence.