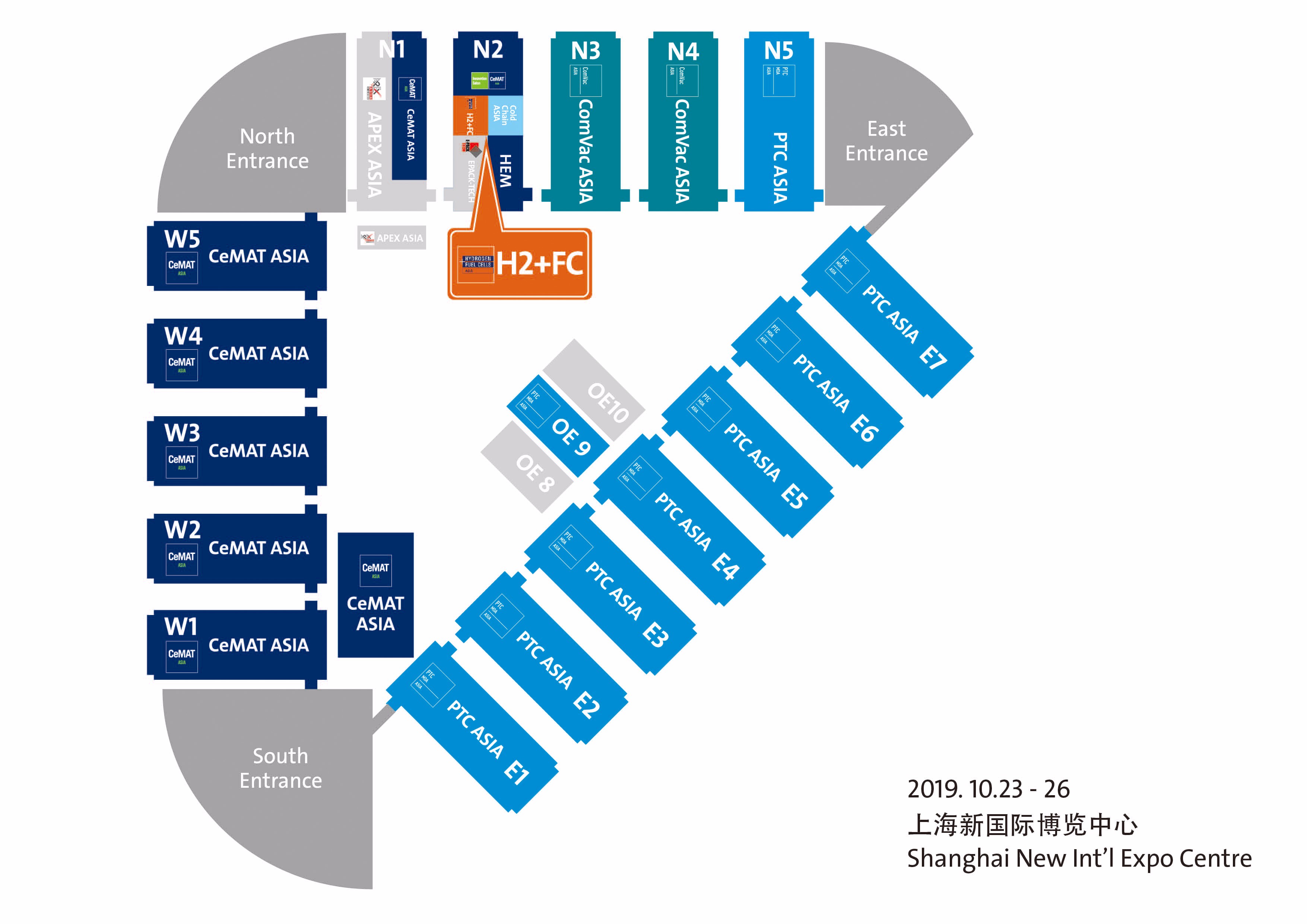 Worlds leading Hydrogen and Fuel Cells brand moves to China !

Hydrogen + Fuel Cells ASIA at CeMAT ASIA 2019, Shanghai


October 23-26, 2019

Shanghai New Int'I Expo Centre

Shanghai, PR China



The worldwide leading organizer for hydrogen + fuel cell trade fairs

Deutsche Messe as organizer of HANNOVER MESSE and Tobias Renz FAIR have been organizing Hydrogen + Fuel Cells EUROPE at HANNOVER MESSE for 25 years. The event became Europe's largest and most important hydrogen and fuel cells exhibition with more than 150 exhibitors from 25 countries on 5.000m² every year.


In 2017 we expanded our successful work in the USA at SOLARPOWER International in Las Vegas and Los Angeles. Now we think it is time to organize a hydrogen and fuel cell pavilion in China at CeMAT ASIA 2019. With three hydrogen and fuel cells events in EUROPE / NORTH AMERICA / ASIA we are the worldwide leading international brand for hydrogen and fuel cells products and technologies.


About CeMAT ASIA
1. Leading International Trade Fair for Material Handling, Automation Technology, Transport Systems and Logistics for 20 years
2. 630 exhibitors from 22 countries and over 100.000 visitors
3. Extensive media coverage and global marketing activities

Why CeMAT ASIA?

There are many synergy effects between the intralogistics and the hydrogen and fuel cells industry. More than 20.000 fuel cell powered forklifts are already in use in several countries worldwide as an alternative to battery forklifts. As a driving force of
energy transition, China is expected to achieve large-scale deployment of hydrogen infrastructures and fuel cell applications outlined in its 13th Five Year Plan (2016-2020). We just think it is the right time at the right place.


Topics of the Hydrogen + Fuel Cells ASIA
1. Fuel cell systems and applications: Automotive, mobile, special markets
2. Hydrogen generation, compression, storage, transport, fueling


Hydrogen + Fuel Cells ASIA

We offer booth sizes from 9m² in our special pavilion, we expect 40 international exhibitors, the planned size will be 700 m².
Contact Person:
Tobias Renz
Tobias Renz FAIR, Berlin, Germany
Tel: +49 (0) 30 609 84 556
Email: tobias@h2fc-fair.com
Ms. Jelly Wang/Mr. Wilson Wang
Hannover Milano Fairs Shanghai Ltd
Tel: +86 21 504556700-283/227
Email: Jelly.wang@hmf-china.com/Wilson.wang@hmf-china.com