CeMAT ASIA's 20th Anniversary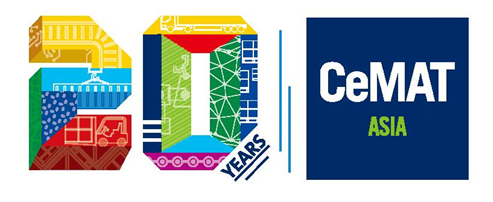 In 2019, CeMAT ASIA is going to celebrate its 20th Anniversary. Since its first edition in 2000 the show has continuously paved its way to becoming the biggest international material handling and logistics technology exhibition in Asia-Pacific.


During a time of economic upwind for the logistics industry, CeMAT ASIA has been the central meeting platform for logistics industry professionals doing business is Asia. The industry has grown rapidly due to steady growth of established industry players and the rapid emerging of startups tapping into global trends such as e-commerce and international trade.

Testimonials



"For CeMAT ASIA's 20th Anniversary, the KION Group is planning the biggest participation the show has see-n so far. Our companies DEMATIC, Linde and Baoli will stage interactive demonstrations and activities on a record large sqm. It will be a fun celebration for us and all our visitors."

Management of KION Group
"When we founded Mushiny in 2016, we were a small startup, but we chose the right timing for our AGV solutions. In 2017 we were able to participate at CeMAT ASIA for the first time and it gave us another push for our growth, especially by finding international partners. We are thankful to CeMAT ASIA for connecting us to a worldwide logistics com-munity and look forward to our future participations. Happy Anniversary!"

Jerry He, Vice President of Suzhou Mushiny Intelligence Technology Co.,Ltd
"We joined CeMAT ASIA from the very beginning and have stayed a loyal partner ever since. We can see our company's growth reflected in the growth of CeMAT ASIA. The industry is innovating quickly, which can be seen in the show's new product categories and forum topics. We look forward to continuing our partnership with CeMAT ASIA and wish the show a happy anniversary!"

Harry Zhuo, President of Damon Group

"In times of rapid industry growth and under the impact of digitalization, the logistics industry needs a platform for face-to-face communication about the most recent development. CeMAT ASIA provides this perfect meeting hub for us, where we can both show our solutions and get inspired by the customers."

Justin-Lifei Yang, Sales Manager of ABB Engineering (Shanghai) Ltd.
Special activities for CeMAT ASIA's anniversary edition
● Road show through regions of China to promote CeMAT ASIA in cooperation with the specialized media Forklift Online
● Press conferences and promotion at selected Deutsche Messe worldwide shows
● Increased cooperation with international media to cover anniversary specials
● Invitation of international VIP delegations to join anniversary festivities at CeMAT ASIA 2019
● CeMAT ASIA's Afternoon Tea networking events focusing on special opportunities for the anniversary

● Anniversary celebration events during CeMAT ASIA 2019